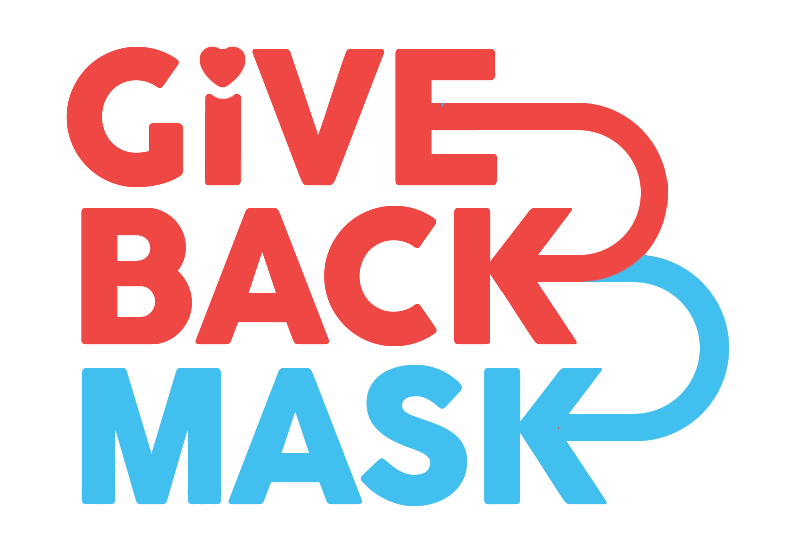 Our mission is to deliver masks to those who need them. That includes you, your family, and organizations like shelters, nursing homes, churches, and others on the front lines helping us through this crisis.
When you buy a pack of Give Back Masks it allows us to send masks to an organization in need.
Frequently Asked Questions
When should I wear a face mask?

Current advice says you should wear a face covering whenever people are in a community setting, especially in situations where you may be near other people. These settings include grocery stores and pharmacies. Face coverings are not a substitute for social distancing. Face coverings are especially important to wear in public areas of widespread COVID-19 illness.
How do I use my Give Back Mask?
This is a single use product. It is recommended that you use this product once and then discard it responsibly.
Wash or Sanitize Hands First.

Hold Mask By Ear Loops.

Colored Side Faces Out.

Place Loop Around Each Ear.

Mold or Pinch Stiff Edge To Fit Your Nose.

Expand the bottom folded portion over your chin.

Use Once, Then Discard Responsibly.

If Mask Becomes Moist, Replace before further use.

After Use DO NOT TOUCH MASK, HANDLE BY EAR LOOPS ONLY.
FOR PROPER DISPOSAL:
Hold mask by ear loops and drop directly into a trash receptacle,

If you cannot discard immediately, place mask in a plastic bag for disposal later.

If you are wearing gloves, you may hold the mask in a gloved hand and then carefully pull the glove off your hand so it is inside-out and the mask becomes trapped inside.
Whats the difference between disposable and non-disposable masks?
Disposable masks are designed to be thrown away immediately after use. This ensures and contaminates are discarded rather than being carried with you or left around your house.
 Both single-use disposable face masks like our Give Back Mask, or bandanas or similar face coverings when used by the general public are for the same purpose: to help slow the spread of the virus during the COVID-19 pandemic. Notably, however, bandanas and those other non-disposable face coverings should be washed regularly to help ensure they remain appropriate for such use. Since our Give Back Masks are single-use, they can simply be worn once and disposed of responsibly.
Do Give Back Masks prevent me from contracting an illness?
No, just like other general face masks and face coverings like them on the market, they are neither designed nor intended to be used to prevent or reduce the risk of the contraction of airborne diseases like COVID-19 or any other infection prevention or reduction. Instead, the Give Back Mask has been authorized by the FDA under an EUA by HCPs as PPE to help prevent the spread of infection or illness in healthcare settings and by the general public to help slow the spread of the virus during the COVID-19 pandemic.
We are David, Gregg, Jess, and Niki. Our day jobs have allowed us, and our small team of dedicated co-workers, to become experts in operations, production, and marketing. When COVID19 hit the US, we realized we the had the connections and experience necessary to make a difference by getting as many face masks as possible into the hands of those who need them most. That's our job. That's our mission.
For every 10 packs we sell, we will donate a pack to a nonprofit in need of face masks. It's our way of doing our part to help slow the spread and resurgence of COVID-19, so that together we can heal from this pandemic.
What are Give Back Masks made of?

Our disposable face masks are made from three layers of material. The top (outer) layer is a non-woven polypropylene based fabric protective barrier, the middle filtration layer is polypropylene melt-blown non-woven fabric, and the bottom (inner layer that touches your face) is a soft protective non-woven polypropylene based fabric. Each layer is 20 - 25 grams in weight/thickness. The mask has a moldable nosepiece under the fabric layer to ensure a tight, comfortable fit.
Are Give Back Masks the same as respirators or N95 masks?
No, Give Back Masks are non-surgical face masks. They are neither surgical masks nor N95 or any other type of respirator mask. Respirator masks protect from exposure to airborne particles like biological aerosols including viruses and bacteria. General face masks help to protect others from the wearer's coughing, respiratory droplets, and spit. The use by the general public of Give Back Masks helps to meet the needs of the general population while preserving the supply of surgical masks and N95-type masks for use by HCPs to help prevent their exposure to pathogenic biologic airborne particulates during the COVID-19 pandemic.
Do Give Back Masks prevent me from contracting an illness?
No, Give Back Masks will not prevent the contraction of airborne diseases like COVID-19. They help stop the spread, but cannot prevent you from exposure.
Are these masks tested or certified?
These products are not certified or tested, nor "FDA-cleared" or "approved" by the FDA. Our Give Back Masks are, however, in compliance with the FDA Conditions of Authorization in effect for this type of face mask during the pandemic. Although FDA testing is not required, our masks have been tested by our manufacturers under exacting standards to ensure high-quality. Test results are available upon request by emailing help@GiveBackMask.com.
Are these masks considered PPE?
This product has not been FDA cleared or approved. It has been authorized by FDA under an Emergency Use Authorization for use by healthcare professionals as PPE to help prevent the spread of infection or illness in healthcare settings and by the general public to help slow the spread of the virus during the COVID-19 pandemic.
This product is authorized only for the duration of the declaration that circumstances exist justifying the authorization of the emergency use of medical devices, including alternative products used as medical devices, during the COVID-19 outbreak, under section 564(b)(1) of the federal Food, Drug, and Cosmetic Act, unless the authorization is terminated or revoked sooner.
Who are you donating masks to?
Our masks go to service organizations that have specifically requested cloth face coverings as donations.

Groups include:
- Police/Fire Departments and other first responders
- Hospice and elderly care facilities
- Women's shelters and church groups providing shelter services
- Childcare organizations for essential workers
- Mental health centers for adults and children
- Truck drivers and grocery store employees
- Veterans' health services

For more details on the specific organizations we donate to, please visit the Give Back List.

Every 10 packs of masks sold allow us to donate a pack of masks to an organization in need.  
How can I suggest an organization to receive donations?

We want to help as many people and organizations as possible. Visit our GIVE BACK LIST and fill out the request form to let us know about your suggested group. We are constantly expanding our list.
When will the donations reach the organizations in need?
Our GIVE BACK LIST shows the organizations we're sending masks to, along with the USPS tracking numbers for each of the packages - so you can see who will receive our masks and when. We aim to be fully transparent about our donation process so you can feel proud about your Give Back Mask purchase.
When will my masks arrive?
We're working hard to ensure your mask orders arrive as quickly as possible. Typically, shipping takes 2-3 days. If orders are placed by 12pm CST, they will be processed same day and shipped 2 days later. If orders are placed after 12pm CST, they will be processed the next day and shipped 2 days after that.
We are working with USPS's projected shipment times. These projections may vary based on the impact of COVID-19, but we will do our best to keep you updated on shipping times if they change.
There's a problem with my order, how can I get help?
Where are my masks coming from?

Our masks are packaged and shipped from our warehouse outside of Chicago, IL.
They are manufactured in China.
Do you ship internationally?
No, right now we are only shipping within the US.
Do you know someone who needs face masks? Send them to GiveBackMask.com.
The more masks we sell the more we can give to organizations in need!
Do you know an organization that could use a Give Back Mask donation?
Have them fill out this form and we will add them to our Give Back List.

Thank you for your support!